Generally life goes along the same way as usual. Here's a summary of my day to day life so I don't need to bother you with it again and can concentrate on "special" events or occurrences.
School run:
Juggle after school activities so I remember what time to collect Rhiannon on particular days:
Ikebana lesson on Monday mornings:
Coffee on Tuesdays with my good friends:
Work work work – often until the early hours of the morning:
Shopping trips – grocery and Carole-time treats.
And so on…
We rarely go out in the evenings.
Sometimes I have my hair done.
Very occasionally I treat myself to a facial, but stopped going there when the lady told me I needed Botox... and it wasn't something the salon offered so wasn't a sales spiel at all. Not happy about that and complained to the manager who laughed and said "isn't she wonderful?!". Erm, no, bye!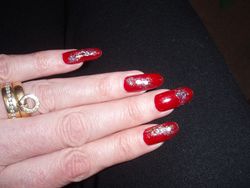 And my new "thing" is to go for a manicure, something I've never done before. I consider my nails to be my best feature (yeah, that's all!) and they grow very long and strong. I used to paint my own until my eyesight got too aged to do them neatly. The school mum's rave about gel nails, but I've heard they ruin your real nails so refuse to try them.
Whilst in Hawaii I discovered nail art and soon found out this is a very Japanese skill and, having never been one for French Tips or neutral nails, I embrace this funky fashion. It took a while to find a salon who worked the way I like. They are always amazed that my nails are my own and sometimes try to take them off! This makes for a great ice-breaker in a language-challenged environment. They are ready to do something avant-garde and "not kawaii!".I usually go for black & white but can't find a pic of them.
Once again, it's the little things in Japan that make all the difference: when it's time to pay, the lovely girls get my purse and money out of my bag for me so I don't smudge the varnish.
I was so sad when this shop closed down a year or so later and I haven't found another such good one since.