After the attack on Pearl Harbour in World War II, Guam was wrested from the Americans by the Japanese in 1941. The Americans seized it back in 1944. It was chosen as a target because of its size and proximity to relevant places in the Pacific campaign – it would make the ideal base.
Before the Americans arrived, a dreadful event occurred: (The local people on Guam are called Chamorros)
From Guampedia "On July 15 and 16, 1944, with the American forces approaching Guam near the end of the Japanese occupation of the island in World War II, Japanese soldiers massacred nearly fifty Chamorro men and women from Merizo in two separate confrontations in caves in the Tinta and Faha areas just outside the village of Merizo."
Then the Americans landed on the island. It was a hard battle. Rain and thick jungle made conditions difficult for the Americans, but they were determined and prevailed. As was normal for the Japanese soldiers, they did not surrender and almost all were killed. However, a few escaped into the jungle where they hid out for many years. One famously survived for 28 years. Sergeant Shoichi Yokoi lived alone in a cave until January 24, 1972 when he was discovered by hunters.
Talofofo is a village located in the southern part of Guam and it was near here that the Chamorros were herded into caves and killed.
When we arrived, the area was completely deserted apart from some very large free-ranging and rather unfriendly pigs and piglets.
A chairlift takes you above the treetops down to the fresh-water falls below. Someone told us that during the massacre these waterfalls were red with blood.
Today they were rather beautiful. We could walk around on a very wobbly bridge.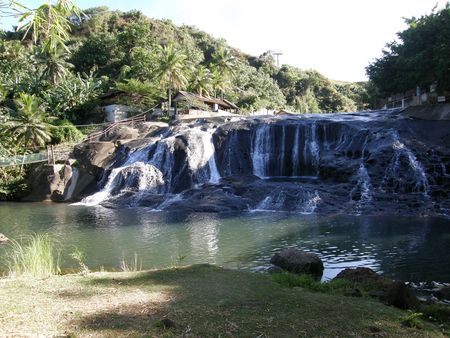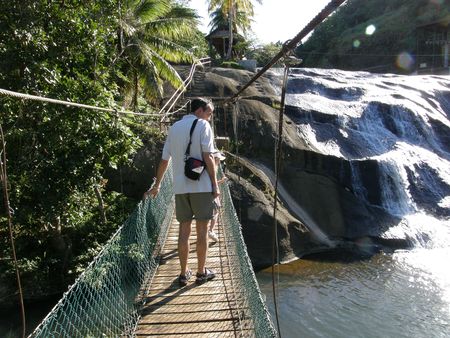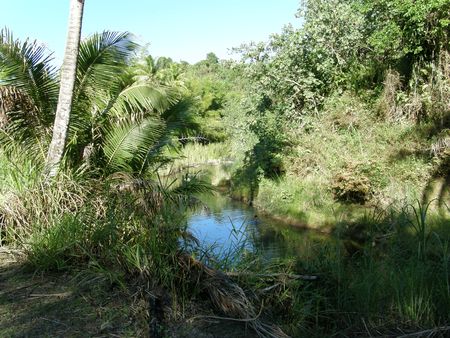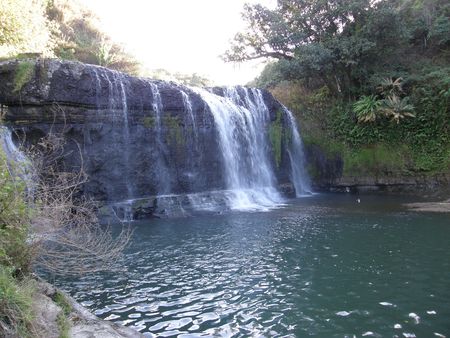 Nearby was a small museum which showed tableaus through time from the days of the ancient Chamorro until World War II. Rhiannon was both fascinated and horrified – remember at this point she was only 6 years old and wasn't aware of war, let alone its associated atrocities.
We did see Yokio's cave but I didn't feel good about taking photographs of it for some reason. The picture at the top of this post is from Wikipedia.