8th December 2007 (and 3rd December)
Yeah, I got the posts out of sync, sorry!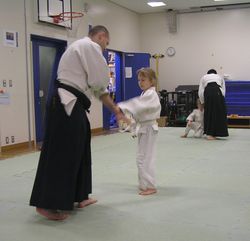 Because Rhiannon has been taking two classes a week in Aikido, we have the pleasure of going to two "watching days". These more than make up for the dismal Christmas Concert (which you will hear about tomorrow... sorry!) as they are fantastic fun! The teachers are hysterically funny and the children clearly enjoy themselves very much indeed.
Proudly we saw Rhiannon achieve her yellow belt – 9th kyu in this particular dojo. She is immensely pleased with herself and it's good to see the hard work recognised by changing the belt colour.
This doesn't happen in many dojos – most remain on a white belt until they make it to 1st Dan ie black belt. But children, especially as young as this, need to see the change and progression. And the coloured belts make this possible, it gives them something to work towards.
And down he goes!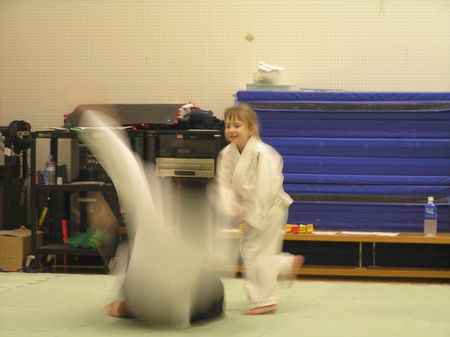 The ceremony of Receiving The Belt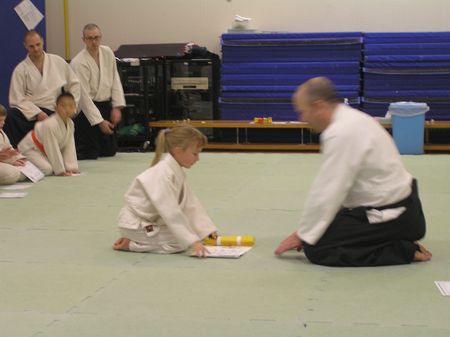 Group Photo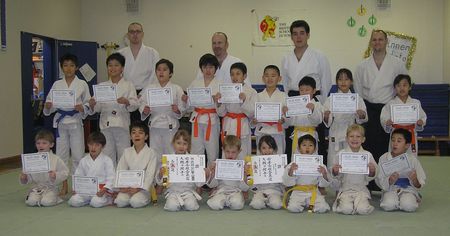 She wouldn't change out of her Aikido kit! Doesn't she look pleased with herself?