Thursday 26th April 2007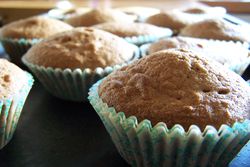 The school's annual Spring fair is on Saturday and because I'm still trying to find my feet with the PTA/Fair Organisers et al, I agree to make some cakes for the Cake Stall.
I love baking, so this didn't initially fill me with dread. Until I tried to find the basic ingredients for a cake...
Self-raising flour doesn't appear to exist. So I grabbed some plain flour and baking powder and googled for amounts to use. Butter is horrendously expensive. But I refuse to inflict disgusting margarine on anyone. Cocoa was found in the end - it was with the baking ingredients rather than beverages.
Little paper cake cases required a trip to yet another shop. Tokyo Hands is the best place for stuff like this and at the same time I bought some small cellophane bags (as instructed by The School) to package the cakes nicely. I'm all set to cook.
My enormous KitchenAid red mixer came with me from the UK but this requires a step-down transformer to use. Japanese electricity is 100 volts while the UK is 240 volts. It's a bit of a struggle to use with little workspace but once set-up it all works just fine.
I think I made about 48 little chocolate cakes. Then I realised the oven is in Fahrenheit and not Centigrade. Another search to find the conversion and pop the first batch in. As I'm not yet used to this oven yet, I checked on the cakes some minutes before they were due to be done. ALL BURNED! What a waste. So I was doubly careful with the next batch and pulled them out early to find the bases were over done while the tops were barely cooked. I was very cross.
I hate this cooker. So the cake stall had to do without my contribution. I'm sure this was noted by the co-ordinators…
After school, Rhiannon and I are both invited for a playdate at Yoko's. Her daughter, Natalie, is adorable, very sweet and quiet - the polar opposite of Rhiannon. And I'm looking forward to getting to know Yoko better. While the children played, Yoko offered me a glass of champagne she'd bought especially. I love this lady already! We had a wonderful chat; I admired her collection of very English porcelain and played with her funny dog which looks like a black Dougal from The Magic Roundabout.
Yoko felt peckish and raided her fridge for snacks. Now, she'd been living in the UK for a few years and had been missing Japanese food so had stocked up on her favourites, which she kindly offered to share with me. Unfortunately, these didn't appeal. Inch long baby squids, complete with eyes really didn't encourage my appetite.
Then she brought out a pot of Natto. She explained to me that this stuff is very good "for the skin and for beauty". As all the Japanese people I've seen are very young looking and beautiful, I agreed to try it.
Natto is fermented soy beans. It stinks and looks vile - all gloopy and, frankly, looks totally inedible.
I tried it.
It stinks, it's disgustingly gloopy, tastes vile and is totally inedible.
I will remain wrinkled.